AN INTRODUCTION TO ANDROID DEVELOPMENT
Android accounts for approximately 85% of all devices sold today (2017 Q1). It only makes sense for you to be developing applications for the Android platform.
I will take you through the basics of Android Application development, and introduce some more complex features as well. This includes the following:
An extensive look at the Java programming language

Introduction to Android, installing Android Studio.

Create your first Android Application, learn to debug the application and learn how to create a signed APK that you can submit to the play store.

Working with implicit and explicit intents

Detailed example of how to work with Fragments

Learn some customizations like a custom ListView, Toast, TextView and ActionBar

Learn how to save data to the phone in the form of SharedPreferences, Files and SQLite

Learn how to implement Android 6 Permissions

Read data from a RSS feed and sending SMSes programmatically

Learn how to save data online and do user management with Backendless (MBAAS)
"Creating your first Android project" is a tutorial for beginners provided by Google. If you absolutely don't have any programming knowledge, going through the tutorial may take some effort and time. However, if you have some programming background, you will find it easy to follow this tutorial. Make sure you go through the entire tutorial as it offers some best practices at the end.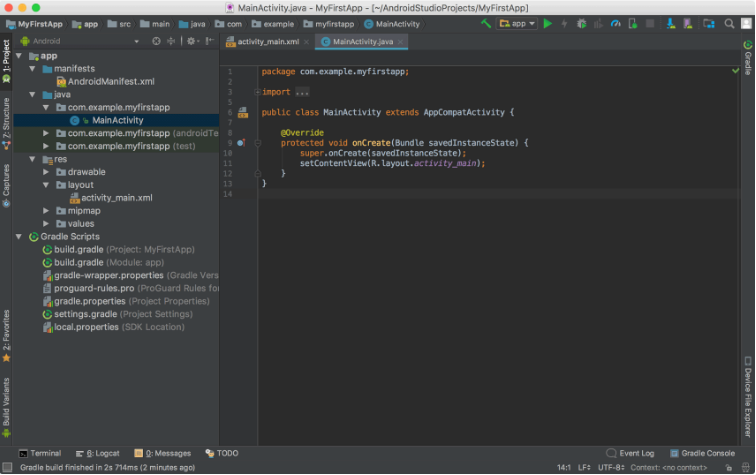 Here are what you will learn from this tutorial:
test your app on different devices and emulators
Create a simple "hello world" Android app that prints to your device and emulator
How to import sample projects into Android studio
Writing your first Android Studio application
By default, Android Studio provides you a number of templates that you can use while making your very first Android Studio project.
To create a new project in Android Studio, click on
Start a new Android Studio project:
After that, select from the number of predefined templates that you can use in your project without coding for the same. If the desired template is not present then you can select
Basic
or
Empty Activity
template.
After selecting the desired template, click on next and then enter the name of the application, package name of the application, save location, language and minimum API level (this is the minimum API level supported by your app). After selecting these, click on
Finish
.
Congrats, your first Android Studio project is ready. You can run your project on your device by connecting the device with USB and then run your Hello World application :) But, before that, get familiar with the Android Studio. Below screen will be opened whenever you create a project in Android Studio:
To understand in a better way, we can divide the Android Studio screen into four parts:
Menu part:

Here, you will get various options like creating a new project, opening a project, running your project on the desired device, build your project and many other options.

Coding area:

This is the area where you can actually write code for your

.kt

or

.java

or

.xml

file. You can open a number of files at a time in different tabs, but the editing can be done in only one at a particular instant of time.

Project structure:

This is the part from where you can access all your files present in your project. There are various views of the project structure in Android Studio. You can use the below views:
Current execution part:

This part is the most important part of the Android Studio. Here, you can see the currently executing process or activity. You can detect the error if any in your Android application. Here, you will get all your build outputs and actions, logcat results, todos and also, you can use terminal here in your Android Studio.
Understanding the Designing part
You can create the UI of your Android application by writing codes in your .xml file. You can find your .xml from in the
res/layout
directory. Here, you will be having two options of designing the UI for your application i.e. the Text way or the Design way.
In the Text way, you can write the xml code for your Android application and at the same time, you can see the preview on some mobile device. Below is a representation of the Text way of writing the UI:
Android Studio, provides a way to drag and drop various widgets and use it in your application. You will be having a list of Palette and you can use any of them in your application. Following is the view of the design part of the Android studio:
Run your app
In Android Studio, you can run your application in two ways, either you can use your mobile device to run the app or you can create a virtual device called emulator and run the app on it. The virtual device will perform the same as that of a normal device but it will require some RAM and storage.
To run an app on your device, follow the below steps:
Use a USB cable to connect your device with your PC.
Then open the

Settings

of your device.
(Only on Android 8.0 or higher) Select

System

.
Scroll to the bottom and select

About phone

.
Scroll to the bottom and tap

Build number

7 times.
Return to the previous screen to find

Developer options

near the bottom.
Open

Developer options

, and then scroll down to find and enable

USB debugging

.
After that, in your Android Studio, click on Run to run your application by selecting the connected device