Technology has turned the world into a global village in terms of effortlessly connecting people from different countries and cultures.

Digital marketing is part and parcel of almost every business. It is the right weapon that utilizes the internet or an electronic device. New startups should definitely take aid of it. Conventional promotional methods are being engulfed by the powerful tactics of digital marketing. The Internet is the main source that lets you bear fruits for your efforts. You can use the internet or promoting your business.
Why Digital Marketing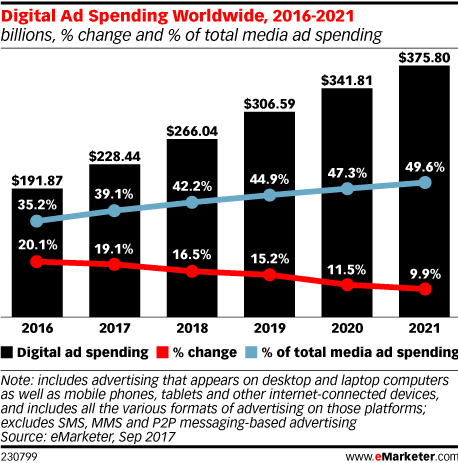 Higher Level of Customer Engagement
Traditional marketing does not allow direct interaction with customers, whereas digital marketing offers a higher level of engagement and connection. Whether it is through social media comments or emails, your targeted people are instantly connected with you through various digital marketing channels.
Ease of Measuring Results
When you give away brochures, distribute fliers or advertise in magazines, you don't know how far your marketing is going to be successful. You may be headed in the wrong direction, but there's no way to tell.
Unlike traditional marketing, digital marketing empowers you to measure results. Digital Marketing allows you to play a clear-sighted marketing game, rather than a blind one.
Traditional marketing is limited in many ways, but one of the biggest restrictions that comes with it is the inability to go beyond a regional or local audience. Your business may not be earthly-bound, so why limit your reach?
Less Expensive & More Effective
When it comes to spending money on marketing, your return on investment decides whether your campaign was successful or not. There is no surprise that digital marketing delivers you a better

ROI

because it's cheaper than traditional marketing/advertising in more than one way.
The digital marketing vs traditional marketing debate is age-old, and it's far from over. However, given the advancement in technology, there is no denying the fact that digital marketing can help a business generate qualified leads/sales without putting a dent in the wallet. The chance for risk is definitely smaller when compared to traditional marketing. So blindly we can Invest in Digital Marketing.
The downside of Going Traditional
While traditional marketing is still effective, it is not the only way to make your product popular among your target market. Today, technology has developed a

nd is enabling businesses to connect to their audience like never before. This is why it's more important to consider the drawbacks of traditional marketing before investing in it.
We Are

in the Digital Age
In 2019, the average Internet user has at least 7 social media accounts. That's up from 3 just 5 years ago.
2% of the world population is on Facebook. 62% of people in the US are there. 76% of Facebook users and 51% of Instagram users are on it every day.
This Is Not My Prediction or something I am talking about facts and sources.
We live in a time when marketing technology moves fast and consumer interests and behaviors are hard to predict. Marketers can no longer stick their heads in the sand and hope that educated guesses and the same old methods will work forever.
Read on to discover

digital marketing trends

for 2020

that will help your business not just survive, but thrive in this age of innovation.
1

) Artificial Intelligence
If you haven't already realized it, 2020 may be the year that a lot of people wake up to the dominance of artificial intelligence (AI). It's sure to be at the heart of global business and industry in the future

–

and it's already taking over many simple jobs.
For example, Microsoft and Uber use Knightscope K5 robots to "patrol parking lots and large outdoor areas to predict and prevent crime. The robots can read license plates, report suspicious activity, and collect data to report to their owners." You can rent these R2-D2-like robots for $7 an hour

– which is

less expensive than a human security guard's wage:
"Artificial intelligence is the biggest commercial opportunity for companies, industries, and nations over the next few decades" and "will increase global GDP by up to 14% between now and 2030," which means that "AI latecomers will find themselves at a serious competitive disadvantage within the next several years."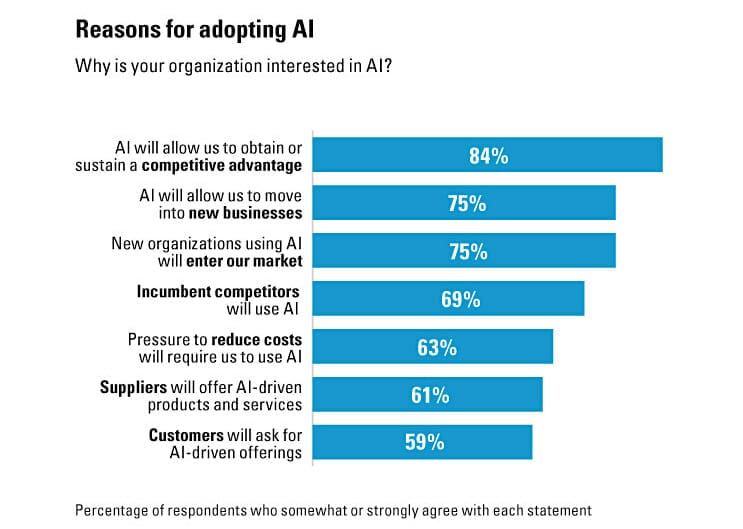 AI can analyze consumer behavior and search patterns, and use data from social media platforms and blog posts to help businesses understand how customers find their products and services.
One exciting example of AI in practice is chatbots (more on that later). Mastercard created a Facebook messenger bot – which uses natural language processing software to decipher what the customer wants and respond as if it were a real person – to automate handling payments: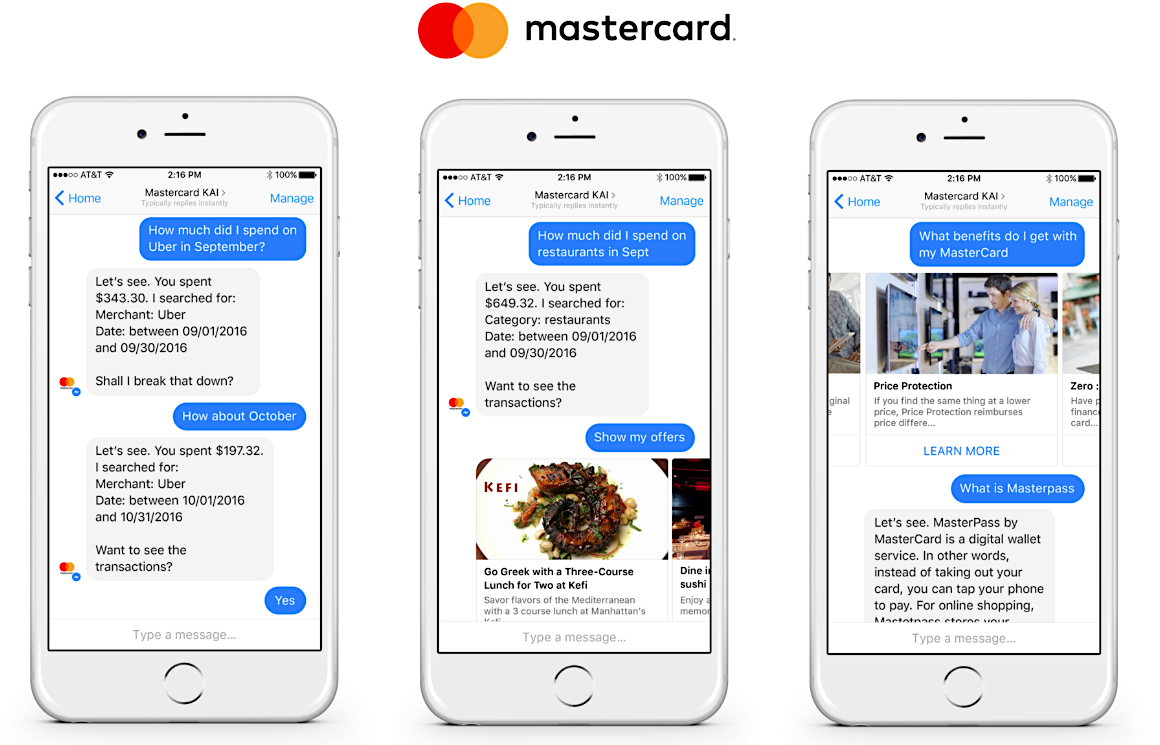 Artificial intelligence will soon be the driving force behind many services and, currently, we already see it implemented in such areas as:
Basic communication

Product recommendations

Content creation

Email personalization

E-commerce transactions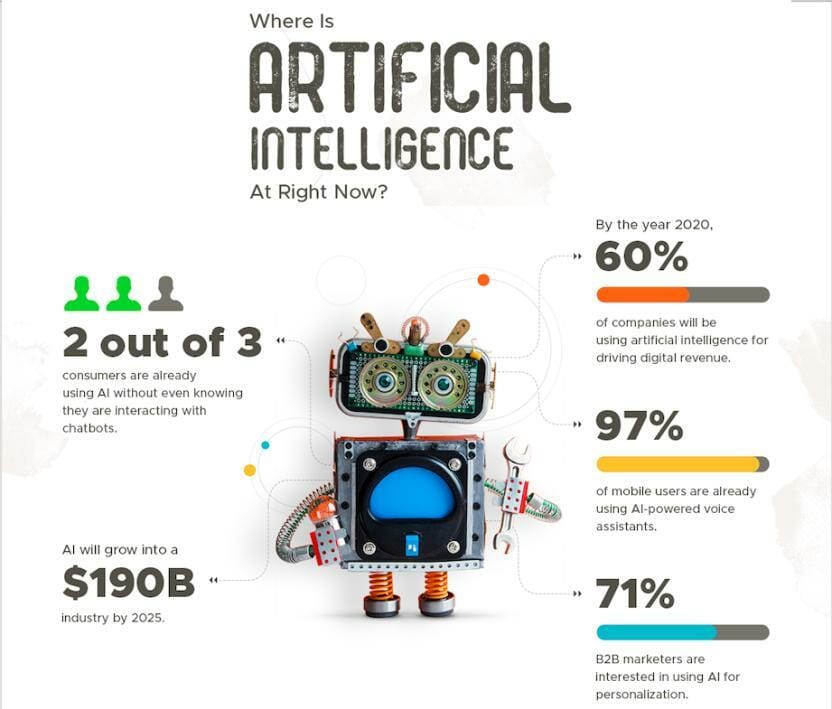 Businesses adopting AI in 2020 will be able to cut staffing costs and accelerate growth, getting an edge over their competitors.
2) Chatbots
Chatbots will continue to be an important part of digital marketing in 2020. This AI-based technology uses instant messaging to chat in real-time, day or night, with your customers or site visitors.

Many customers prefer interacting with chatbots as they are responsive 24/7, give answers promptly, accurately recall your entire buying history, and never lose patience. These virtual assistants offer outstanding customer service by meeting customers' expectations and automating repetitive tasks – which means that you can focus on more important work.
Many brands already use chatbot technology, including rideshare brand Lyft. You can request a ride from Lyft via chat (Facebook Messenger and Slack) or voice (Amazon Echo), and their chatbot will let you know the current location of your driver: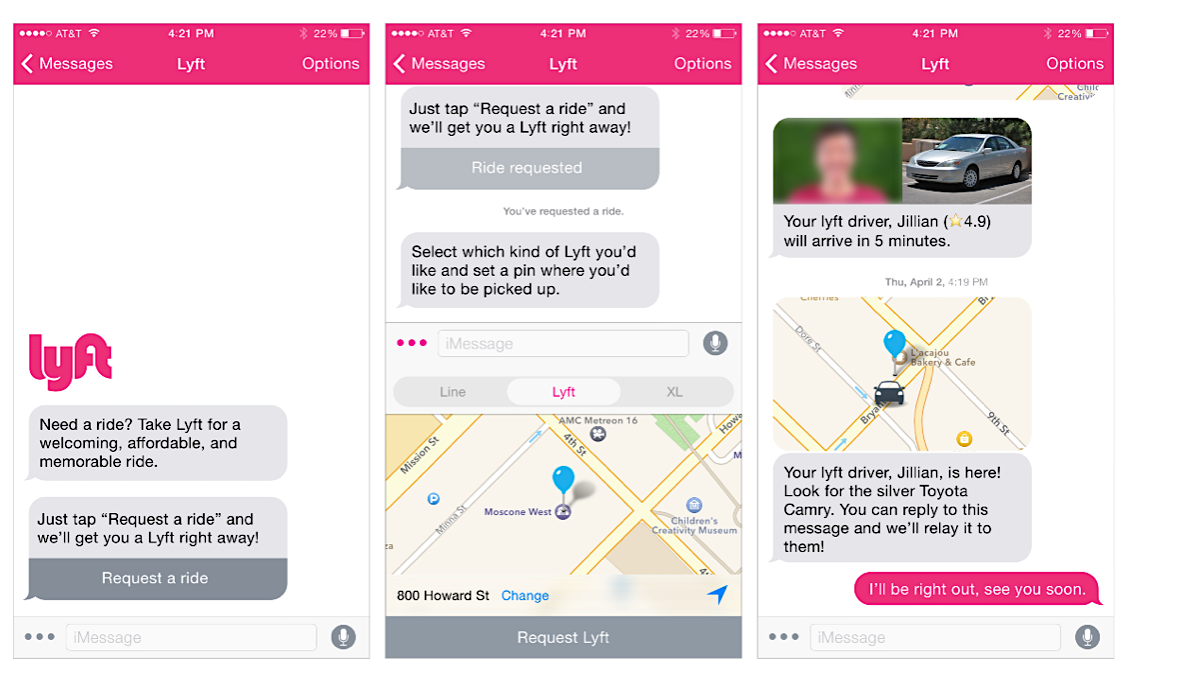 Passengers can use the app to choose the type of ride, make a request, track the location of the car, send friends a time estimate of their arrival, and make payment.
3

) Video Marketing
Video marketing is one of, if not the, most important marketing trend today and likely for the next 5-10 years. These numbers show the importance of incorporating video into your digital marketing strategy in 2020:
70% of consumers say that they have shared a brand's video

72% of businesses say that video has improved their conversion rate

52% of consumers say that watching product videos makes them more confident in online purchase decisions

65% of executives visit the marketer's website and 39% call a vendor after viewing a video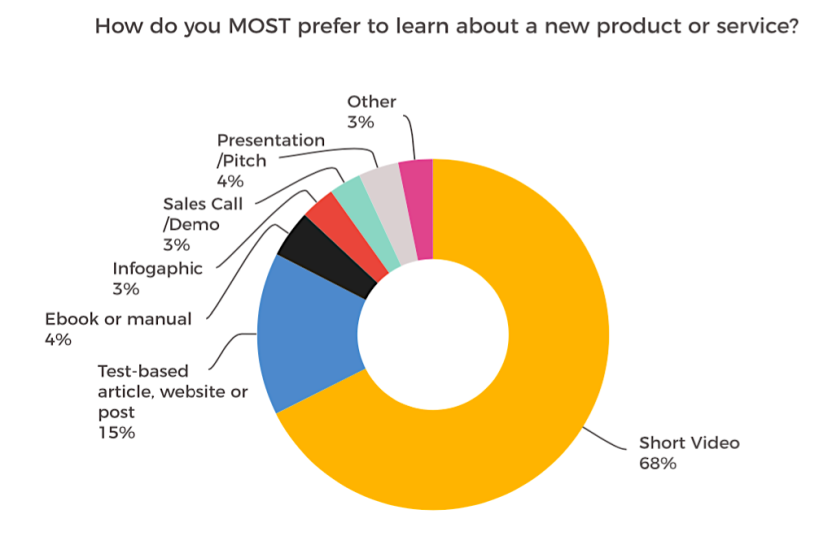 And don't just think YouTube. There are plenty of ways to drive higher engagement with your video marketing, as you can make a video post or start a live broadcast on Facebook, Instagram or LinkedIn.
One of the issues that marketers have faced in recent years is the growing shift to mobile devices. Those long-form sales pages and emails of yesteryear are fading fast because they're simply too difficult to read on small mobile screens. However, video can present the same information in a format that works perfectly regardless of the device.
If your site includes video, it's 50X more likely (50 times!) to drive organic search results compared to text. Why? Because people find video content more compelling, so Google pushes pages that include videos higher in the rankings.
One of the best things about video marketing is that it makes it easy to reformat your content. Imagine that you've recorded a video for your YouTube channel. Instead of just publishing it on YouTube, you could also:
Here are some other video marketing trends that are gaining more and more traction:
Live video

is particularly popular with a large number of businesses who use it for interviews, product demos and behind-the-scenes glimpses of the brand, such as life in the office, how products are made, company events, etc.

1:1 video

is when businesses or marketers create personalized video messages rather than make phone calls or send emails. With the decreasing cost of film equipment and increasingly high-quality smartphone cameras, this is easier than ever.

Video SEO.

YouTube and other videos are displayed in the SERPs, so video optimization is becoming much more important – like using text overlays and closed captions, in addition to your description, title and file names.

360-degree video content.

This trend towards a more interactive experience is on the rise – just look for the circular symbol in the top left corner to start sliding the moving image left or right as it's playing, like this 360˚ video from Hong Kong Airlines (香港航空):
4)Influencer Marketing
Influencer marketing is a type of word-of-mouth marketing that focuses on using key leaders to amplify your brand message to a larger market. Influencers can be well-known celebrities, but more often they are Instagram or YouTube personalities with a huge niche following who can help spread the word about your business or product through their social channels.
Because influencer marketing is generally more authentic than corporate advertising:
63% of consumers trust influencers' opinions of products much more than what brands say about themselves

58% of people have bought a new product in the past six months because of an influencer's recommendation
For this reason, Iceland, a popular British supermarket chain, switched from ads with celebrities to a campaign that features real-life moms. Teaming up with YouTube community Channel Mum, it now works with a number of vloggers to promote its products in a more "authentic" fashion. And research shows that 35% of moms trust online videos like the one below more than traditional ads:
Influencer marketing is not just a trend: A media kit study predicts that the ad spends on influencer marketing could reach $10 billion by next year: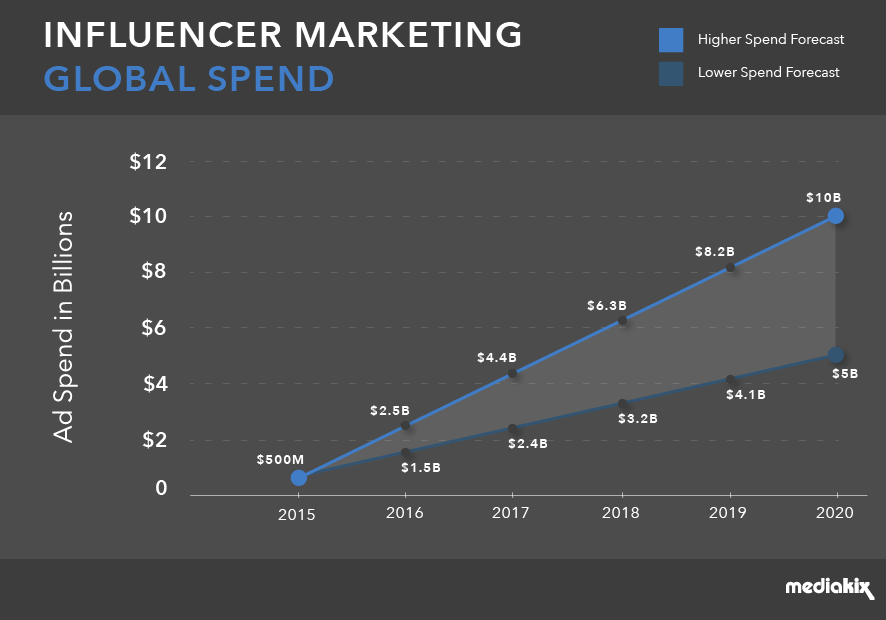 Influencer marketing is also going to be affected by artificial intelligence. With each year, AI is making the process of finding the right influencers to partner with easier and faster. It's helping identify those with better engagement, fewer fake followers, and a higher chance of generating a positive return on investment (ROI). In addition, artificial intelligence is transforming influencer marketing in the following ways:
Image recognition with ANN (Artificial Neural Networks)

Determining influencer performance with NLP (Natural Language Processing)

Predicting incentives with ANN

Determining an influencer's influence

Flagging posts that don't follow disclosure guidelines

Elimination of fake engagements and spambots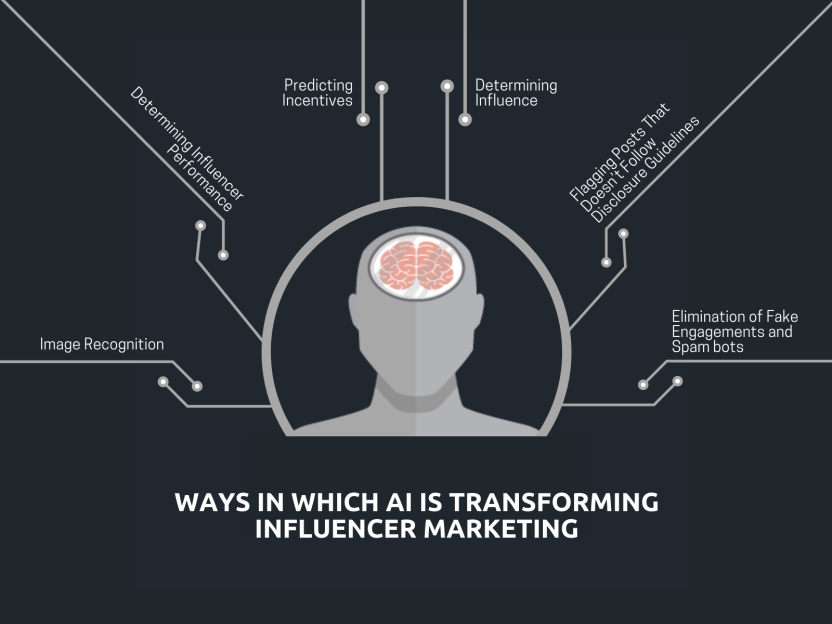 5) Hyper-Targeted Advertising
Companies use digital ads to market their products, but have you ever come across an online ad that was straight up annoying or had nothing to do with you? Not only do online consumers tend to ignore these ads, but they may also end up hating the product and doing everything in their power to stay away from the brand.
Forbes magazine states that because of this overwhelming

digital connection

, unrelated ads or brands that keep on bombarding people with their irrelevant ads will be disregarded by 49% of people.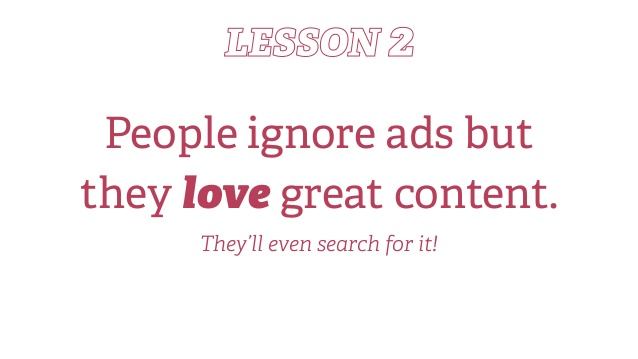 If your brand keeps consistently sends tailored messages, then 36% will respond by buying the product.
Many companies are aware of this trend and are already planning accordingly. And we're predicting right now that by the year 2020, most companies will be targeting precise audiences and users will only be viewing (and responding to) hyper-relevant ads.
6)Social Messaging Apps
If you think social messaging apps are just for sending emojis to your friends, take a look at these numbers: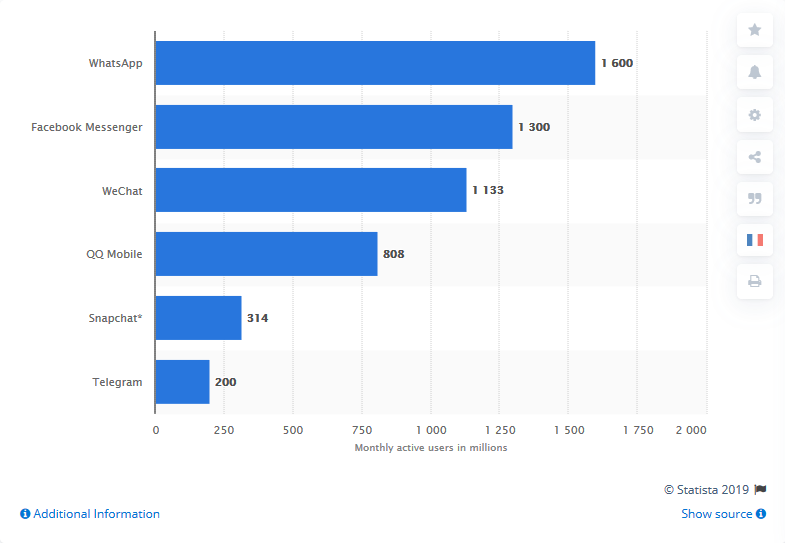 10 billion messages are sent between people and businesses on Facebook Messenger every month
WhatsApp has 1.6 billion active users and 55 billion messages are sent via every day

The top three social messaging apps – WhatsApp, Facebook Messenger, and WeChat – have more combined users than Facebook or YouTube
These statistics show the popularity of social messaging apps, and since people are spending more time messaging each other, it makes sense to market your company's products and services where your potential customers are hanging out.
Social messaging apps can be very useful in sending messages to customers directly, as they allow personalization and add value to the user experience. In addition, people expect businesses to have a presence in messaging apps because it's a direct and easy way to interact with them. In fact:
63% of customers are more likely to return to a company website that has live chat.
Cultivate contact

Delivery information

Boost sales

Involve people in events

Regain potential customers

Provide support and assistance
Google Lens is a visual search engine by Google, which recognizes objects and landmarks through a camera app. Here's what you can do when you take a photo of the following items:
Apparel and home goods:

Find similar products and where to buy them.

Barcodes:

Use a barcode to find info about a product, like where to buy it.

Business card:

Save the phone number or address to a contact.

Book:

Get a summary and read reviews.

Event flyer or billboard:

Add the event to your calendar.

Landmark or building:

See historical facts, hours of operation, and more.

Painting in a museum:

Read about the artist and learn more.

Plant or animal:

Learn about species and breeds.
As CNet says, "Google Lens is turning into what Google Glass never was" when it comes to real-time augmented reality.
8)Voice Search & Smart Speakers
The increasing use of voice search has made it important for companies to rethink their digital marketing strategies in 2020. Consider these numbers:
50% of all searches will be via voice by 2020

55% of all American homes will own a smart speaker by 2022

72% of people who own voice-activated speakers say that their devices are used as part of their daily routines

Voice shopping is set to jump to $40 billion in 2022, up from $2 billion today

Global smart speaker shipments have almost trebled between Q1 2018 and Q2 2019, growing from 9.36 million units to 26.1 million units
Overall, people expect to be using voice search for more in the future: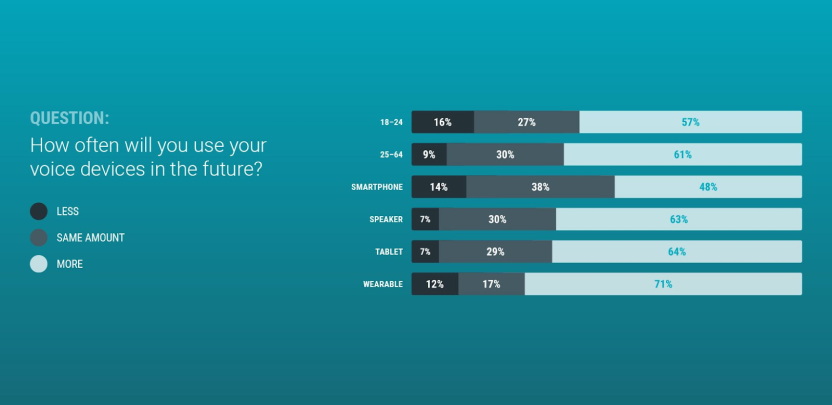 Voice search plays an important role in providing all the relevant information that people are searching for through audio content. AI is getting smarter and the number of errors made by voice assistants like Alexa, Siri and Google have reduced greatly.
"Adopting a voice search strategy isn't just about remaining relevant – it's also about creating a unique and optimized customer experience that will foster relationships and build brand loyalty."
Many brands are already including voice search in their digital marketing strategies to deliver value-based content effectively to their customers:
Patrón Tequila

helps consumers access personalized cocktail recipes

Domino's

allows pizza-lovers to order from the comfort of their couch without having to pick up the phone or even place an online order

PayPal

users can engage Siri to send money to friends, family or businesses

Nestlé

created a skill that provides voice instructions as you cook

Campbell's

has a skill that helps hungry consumers choose and cook recipes
Google Assistant has 2,000 "actions" and Alexa has 30,000 "skills," which are functions that allow these voice assistants to react very specifically to user commands and queries:
9)Augmented Reality (AR) & Immersive Technologies
Gartner predicts that by 2022, 70% of enterprises will be experimenting with immersive technologies, and 25% will have deployed to production.
While virtual reality (VR) makes a lot of noise and gets everyone excited with grand sci-fi ideas, AR is much more implementable from a marketing standpoint. Experts predict that AR will continue to outpace VR in terms of market share: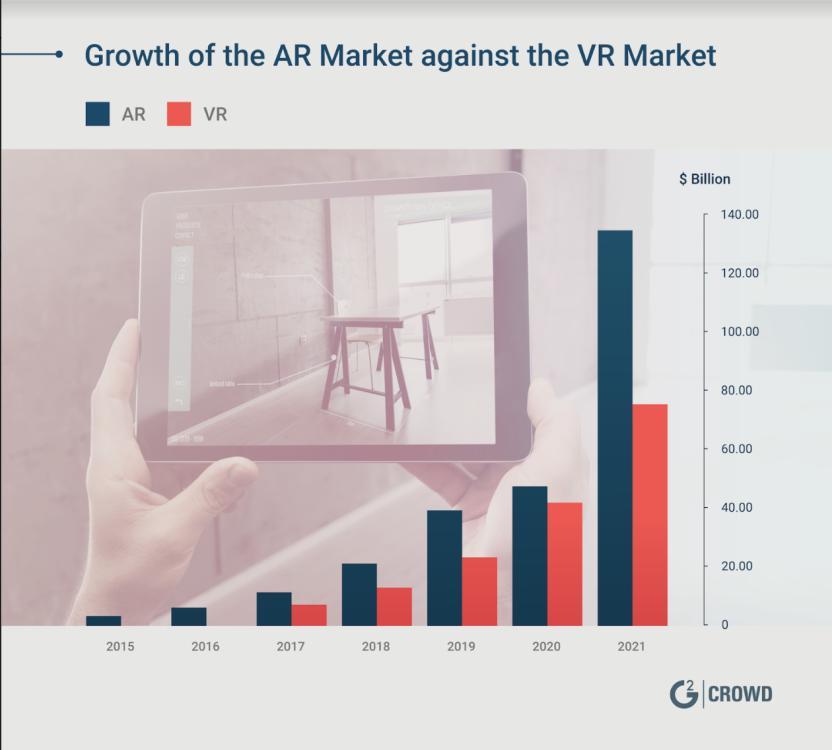 Brands are increasingly using this technology to enhance the consumer experience and increase sales.
ModiFace, which has recently been acquired by L'Oreal, produces AR applications for brands. Sephora Virtual Artist, an impressive example of ModiFace's technology, allows you to see how the different colors of various forms of make-up will look on your face, without having to go to a store and physically apply it: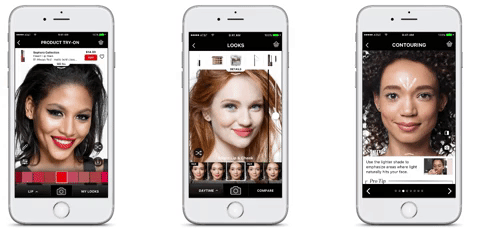 And IKEA has its own AR app called IKEA Place which allows you to take a picture of a room in your home with your smartphone camera (with just iOS 11.0.1 for now) in order to "test drive" IKEA's furniture in it. You can move the furniture around and check out how it looks from different angles: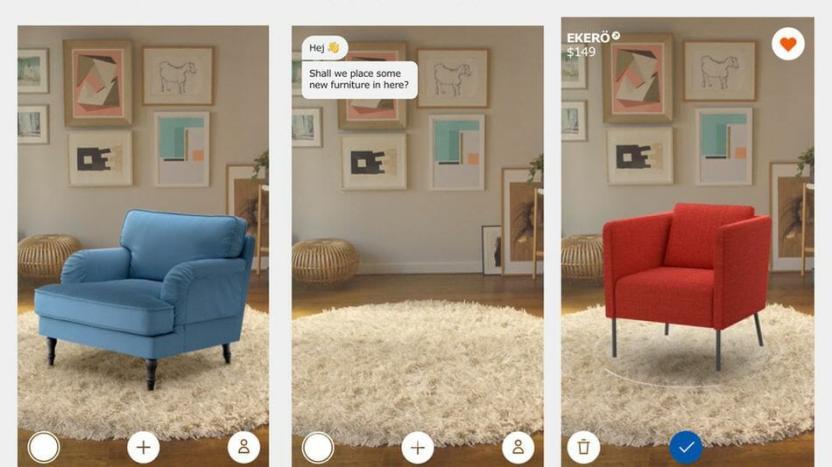 With AR improving rapidly, we will see a huge uptake in brands finding useful applications for the technology in the future.
10)Blockchain Technology

"A blockchain is, in the simplest of terms, a time-stamped series of immutable data records that are managed by a cluster of computers not owned by any single entity. Each of these blocks of data (i.e. block) is secured and bound to each other using cryptographic principles (i.e. chain)."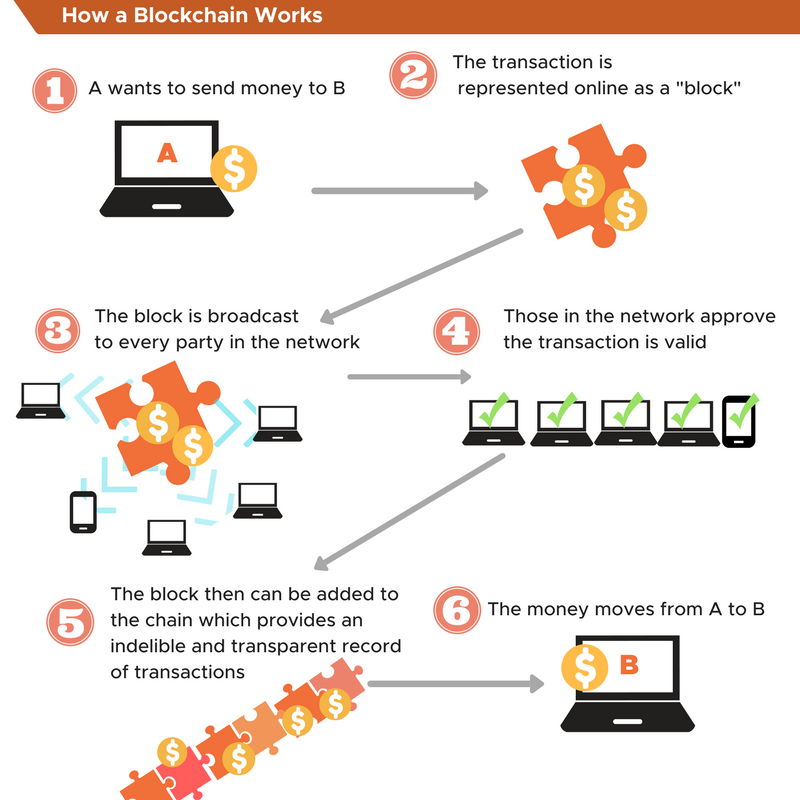 uses of blockchain are far more wide-reaching than just the financial world, however; this technology is also making waves in the digital marketing world. Blockchain eliminates the digital marketing intermediary, builds trust by means of transparency, drives public accountability and offers benefits for branding.
But in 2020 and beyond, we'll see these trends in the blockchain:
Handling Social Impressions

Verifying Online Identities

Protect Personal Data

Pinpoint Targeting

Authentication and Provenance
11)
Google Ads Smart Bidding
With intense competition on social media slowly suffocating organic reach, paid advertising will become a more trusted force in 2020. And when you consider the Smart Bidding feature on Google Ads, you'd be a fool not to give it a try.

Google explains that with Smart Bidding:

"Machine learning algorithms train on data at a vast scale to help you make more accurate predictions across your account about how different bid amounts might impact conversions or conversion value."

In other words, advertisers can hand the reins of their pay-per-click (PPC) campaigns to Google's AI system, which will then optimize their budget to maximize their ROI. This works for any number of PPC goals, including:

Target CPA – Generate new leads and customers for a maximum cost per acquisition that you set.
Target ROAS – Set your sights on getting the best return on your advertising spends.
Maximize Conversions – Rack up your advertising conversion rates, whether your aim is to get more email subscribers, downloads, or product sales.

Device

Physical location

Location intent

Weekday and time of day

Remarketing list

Ad characteristics

Interface language

Browser

Operating system

Some of these signals are available as manual bid adjustments, but other signals (and combinations of signals) are only available via Smart Bidding:

The bottom line is that with Smart Bidding running the show, marketers will have more free time to focus on strategy, copywriting, and analytics.
12)SERP Position Zero
For the past couple of years, voice search has been causing waves, changing the way search engine optimization works. Most notable is the rise of the featured snippet, which appears in the highly coveted "position zero" in Google's search engine results pages, like in this example:

Also known as rank zero snippet or position zero, this is the holy grail of modern-day SEO, as it directly answers user search queries without any need for the user to click a link. VSEO (voice search engine optimization) can give you an enormous competitive advantage (of course, this is only good news for one brand…).

Because of this, more marketers will invest their resources in

On-SERP SEO

, which is the practice of optimizing web pages with the goal of claiming as much space in Google SERPs as possible. This boosts your click-through rate (CTR), driving more organic traffic to your site and increases the likelihood of claiming the top spot.
13)Big Data and Deep Learning
In 2020, the world's big data industry will continue to grow exponentially, which is great news for marketers

–

if you know how to harness the power of big data. A huge part of this task comes down to the tools you use, which is something that a lot of companies find challenging.

Forbes report that 78% of organizations either already have or are developing a customer data platform to help manage, analyze and leverage their data. It comes as no surprise that data experts top the priority list for many enterprises, with 41% of company owners saying it's now their most desired skill to hire.

With the benefits of big data comes the need for companies to leverage this data better to "significantly simplify tasks that formerly could only be completed by data scientists." More importantly, "This continued democratization will lead to new use cases that are closer to the needs of business users and will enable faster time-to-market for AI applications in the enterprise."

One caveat is that as big data grows even more powerful, the demands on how companies should manage consumer data becomes increasingly precarious. The GDPR changes lit the touchpaper for a global revolution on data privacy, with California set to roll out the California Consumer Privacy Act (CCPA) on January 1, 2020.




As such, big data is a double-edged sword, but one that many digital marketers will find hard to resist in the very near future.
14)5G Technology
In a world gone mad for mobile, arguably one of the most significant digital marketing trends of 2020 is the dawn of 5G technology or fifth generation of mobile technology. This update heralds a new era of digital communications and its impact will be felt across virtually every industry.

"5G will enable a fully-mobile and connected society — unleashing human and technological possibility, and fuelling business and financial opportunity."

"The arrival of 5G may also finally bring millions of rural consumers into the high-speed data lanes where marketers increasingly sell their products. It might even disrupt the digital duopoly of Google and Facebook by arming telecom companies with unprecedented data for ad services."




T-Mobile points to the benefits 5G speed has for the burgeoning augmented reality industry, noting how it could be instrumental in developing a virtual heads-up display. As this picture below shows, 5G Internet speeds can help cyclists spot danger from all sides.

5G increases the downloading and uploading speeds over the mobile network

IoT industry in India is expected to reach $9 Bn by 2020

A 2019 Ericsson report suggests that 5G will make inroads in India by 2022




In September, Reliance Jio Infocomm Limited (Jio), Chinese telecom operators and other international technology companies came together to create the Open Test and Integration Centre (OTIC), which seeks to develop 5G network solutions based on open standards and interoperability.
15)Social Media Marketing
In 2020, we'll see brands tapping more into the potential of video and interactive content on social media to get attention, but they must follow it up by being authentic on their social channels, and by working hard to nurture a community of engaged, loyal followers.

As social media strategy consultant Neal Schaffer puts it:

"If your business wants to survive in organic social media in 2020, I believe that this sort of humanization of your brand will be necessary."

This growth is unlikely to falter in the wake of Instagram removing likes from the platform.

So, there you have it

–

our definitive guide to the most important digital marketing trends you must know in 2020.

"Those who cannot change their minds cannot change anything."




―

Thank you all for being with me through all these years. There's so much more to come! Life is amazing with you in it. Have a very happy New Year!