You could probably decide your career on the basis of what you want to be.
digital marketing is the future.
And I'm tired of getting this.
Digital Marketing is all about people who are passionate about this industry.
There are so many things happening in digital marketing and you need to understand what exactly is Digital.
Marketing and what are the various terminologies and processes associated with the Sukses campaigns.
strongly associated with digital marketing.
So let's get started.
So when a brand is going digital These are the kind of objectives that the plans set one making of the website
search engine assembly and driving traffic to the means of search engines which is organic traffic to
drive traffic to the website.
In a short period of time, we just to lead by example and the values come in that are coming around and
you have a product to sell and you know that you can't rely on organic we should drive traffic.
Then you got to build means and you try to get good traffic to your website.
And that will probably lead to conversion or the bodies of the products that you are trying to say that
talking is to engage and educate your audience as well.
Our objective is to use social media channels in order to just keep your audience informed and educated
about the products or services of what's happening in your 40s to leach out of the side audience.
You create a demand for your product and you try to sell your product and service even if the person
has started.
And to the means of the modulation.
You try to drive.
Let's remember there are two things in one.
It's called the modulation.
And second is goldmines demodulation is when you have a product which is fairly new in the market and
you believe that there are not many people searching.
let's understand the various possibilities in the digital marketing ecosystem.
Digital Marketing ecosystem has search engine optimization it has search engine marketing social media
marketing email marketing.
Explain what you guys affiliate marketing inbound marketing influence of marketing and content.
Let's look at search engine optimization search engine optimization is the process of bringing your
website on the top page of Google organically.
For example when you tried to go on Google search or whole Saudis in India and when you see these listings
out here these listings are the best examples of search engine optimization where you will notice people
pick up this magical word called keyboard and they use these keywords in their diapers.
They use these keywords in their wallets.
They use this keyword in their content so they try to incorporate the key role in the website in the
smartest way possible.
There are some techniques called on-page documentation which people use in order to make your website
navigation friendly in order to make a website user-friendly in order to make website keywords indexed
in order to make your website search engine friendly by taking all those bad Amygdalus the search engines
like Google or being wants to look at in order to bring your website on top.
Every businessman realizes the Allies in need of a person or department when you're not able to manage it alone or to scale up their business.
Like how accountants a job market does, the sales department is gradually fixed with time. Businesses will also fix digital marketers.
They'll be a huge demand for skilled market goes in the next 10 years as an agency with no dwellings in the industry and always had challenges of finding the right candidates because they're not needed.
1) Companies are using digital marketing seriously
Today, people understand the significance and power of the web in running their business. The positive news for organizations of all sizes is that you need not need to worry about having a TV-sized spending plan to attain advantages with regard to digital advertising. Companies are seriously making use of digital marketing to make profits and to make their business grow.
2)
Traditional vs. Online Marketing
The Real Value of Your Online Marketing Efforts
When it comes to marketing—is digital really the new traditional? What do you think?
That's a long-standing debate that has marketers on both fronts defending the merits of each.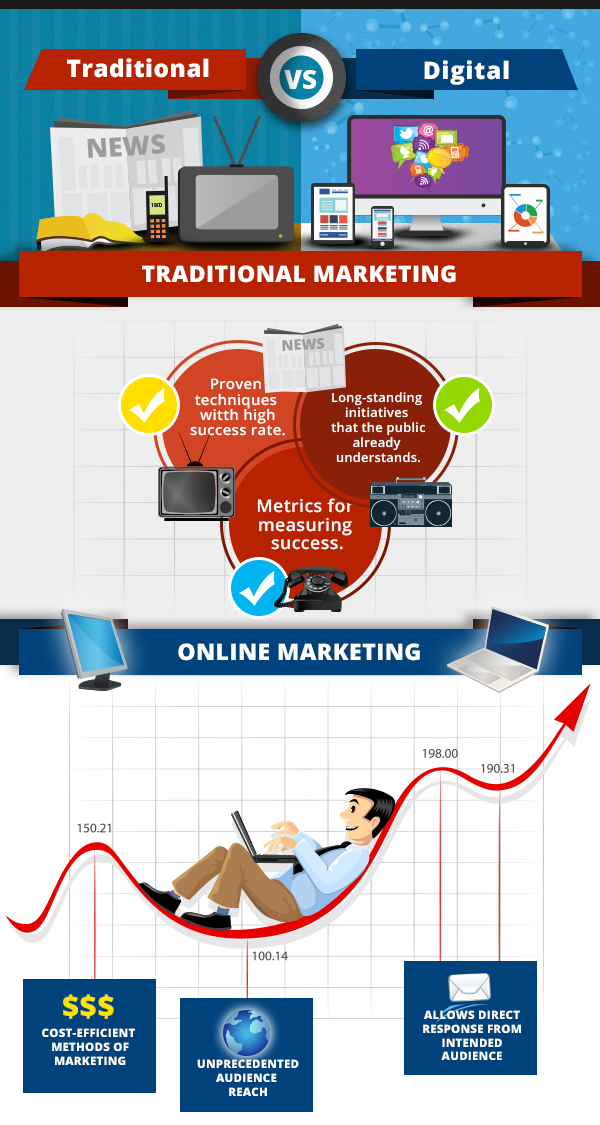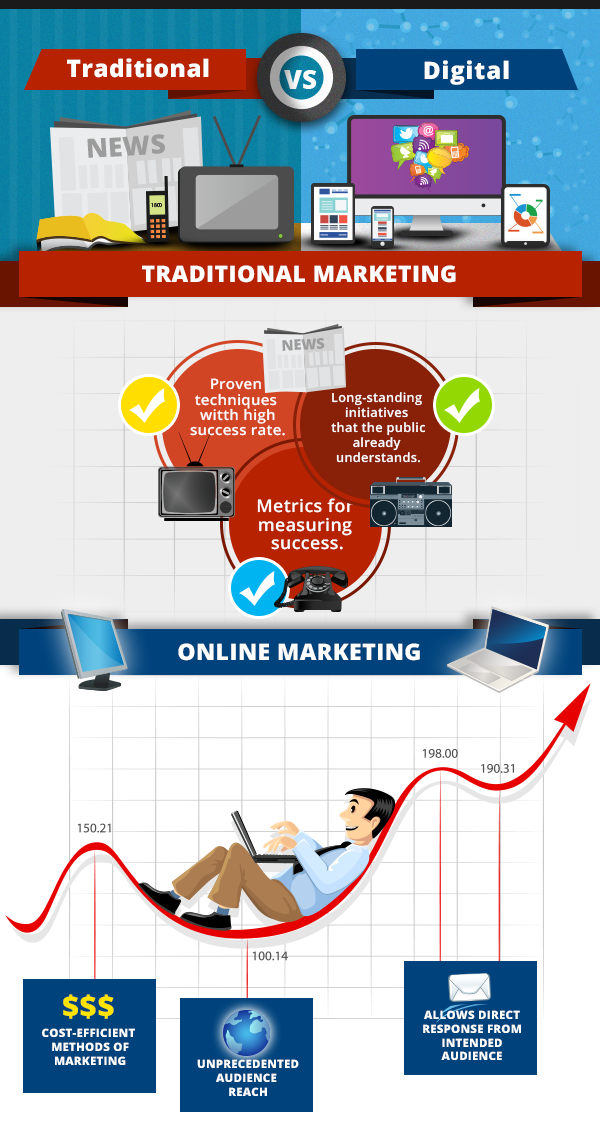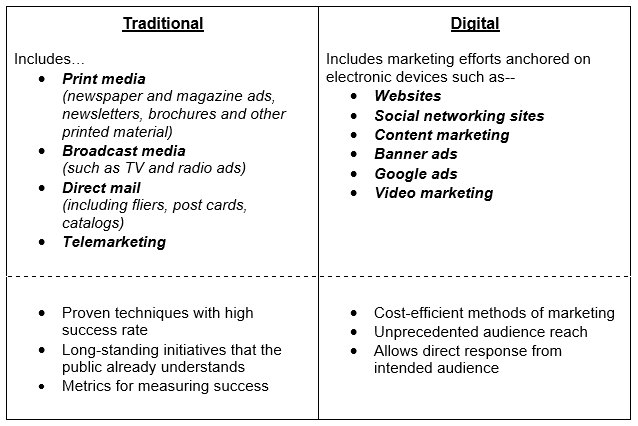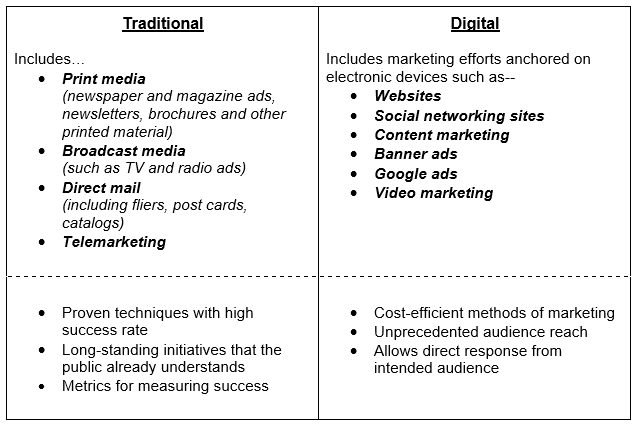 Does that mean that you need to do both? No—
you need to do what is most effective for your business
.
This means…
Choosing the medium that is cheaper.
Picking a strategy that has better reach.
Using a platform that gives you a tangible, almost direct, response.
All of these can be easily accomplished by digital marketing techniques. This is why I think digital is the way to go. But depending on what your business actually needs, another question worth exploring would also be:
how can digital and traditional marketing work together for your brand?
Let's break it down in terms of the following:
Cost
Digital marketing wins this one, hands down. Even stalwart traditional marketers know that they cannot compete with the Internet's potential to reach thousands with just a single post.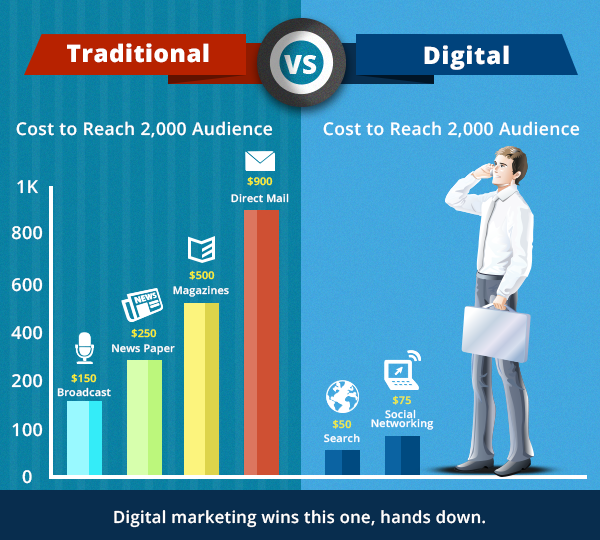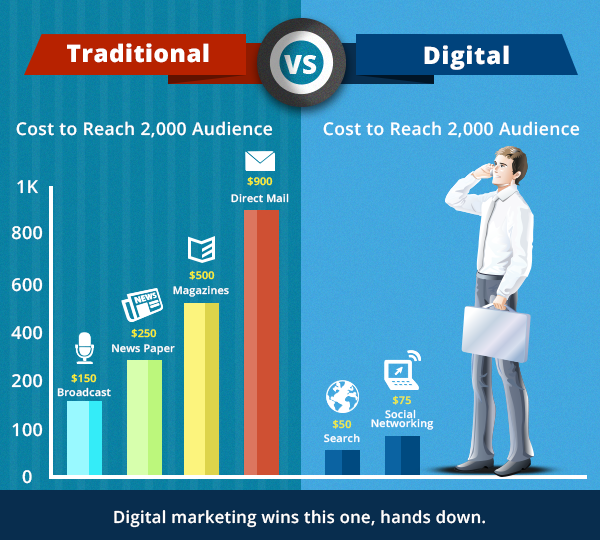 3)Better Growth Options For Small business
The importance of digital marketing for business lies in the option to select your method of marketing as per your budget and reach a wider audience at a lesser cost. Even a decade back getting your product marketed especially for a small business was a task in itself. They had to resort to small level methods where the guarantee of success was close to negligible.
4)
Higher Conversion Rate
The businesses that are opting for digital marketing are able to measure the
conversion rate
through real-time using a simple method. That is identifying the percentage of viewers who get converted into leads and then subscribers and in the end finally purchasing the service or product. SEO, Social media marketing and Email marketing are methods which have a high conversion rate as they are able to generate a quick and effective communication channel with the consumer.
Surprisingly all the traffic that you may get on your website may not be fruitful hence digital marketing lets you reach out to only those who have the need for your kind of service hence offering better lead conversions
.
5)New generation spend a major part of their time on the Internet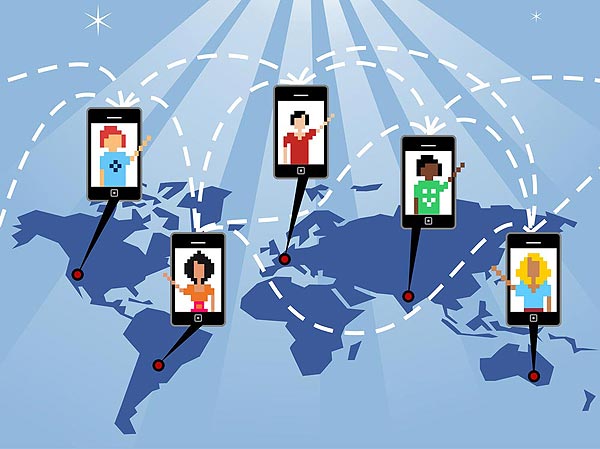 Digital transformation will take India's internet users from 373 million (28 percent of the population) in 2016 to 829 million (59 percent of the Indian population) in 2021, global networking giant Cisco.
Everybody is online these days. Individuals are spending more time online than that watching the television or tuning in to the radios.
Today, more than
300 million Indians
are using the internet on a day-to-day basis.
During the last 2 years, the amount of those using the internet, even those in the age group of fifty-five plus has expanded by almost eighty percent. With regard to the young population, the numbers are altogether liberal. This trend of people using the internet is going to grow and adds to the bright future of digital marketing.
6)

New generation loves to shop on the web
E-commerce spending has expanded up to ten percent from the previous year, with the number of transactions expanding by seventeen percentages. Visits to the retail sites have expanded, with Apple, Amazon, Wal-Mart Snapdeal, Best Buy and Flipkart topping the list of several famous retail sites.
According to a new study by Forrester Research, approximately a fifth of total retail sales will take place online by 2021 in the Asia Pacific, with 78 percent of that coming from mobile, up from 63 percent in 2016. The study adds that online retail via mobile will grow at a CAGR of 15.6 percent, to reach $1 trillion in 2020, up from $539 billion in 2016.
7)Expanding Audience Reach
The most important benefits of digital marketing are reaching your audience to the fullest. Under traditional marketing, you are being bounded by the scope and size of your audience and print media limits you to certain places and markets.
Targeted Audience Approach:
Digital marketing benefits you to target your audience farther. There are higher chances that your audience is spending time on social media platforms such as Twitter, Facebook, etc. where you can publish an advertisement to gain more engagement with your audience.
Easy Adapting of Tactics And Strategies
Another major advantage of online marketing is that they are very easy to understand. You can easily understand through the result of tactics which one is giving you results and which one is not. Strategies that are implemented in online marketing gives you results on a real-time basis.
For example
, if you want to promote your blog page then you can simply share your blogs on various social media platforms. With the help of content marketing, you can increase your engagement with your audience very soon and very accurate.
8)More Advanced Analytics
What do you really know about how a TV ad performed? You can determine best times for the ad to air and best frequency if you do some testing. You might create a focus group to drill down on the data. But generally, you only know its reach according to the agency and whether it increased buzz, sales, or met a similar marketing goal.
Now, let's look at the

importance of digital marketing

in comparison.
With digital marketing you know the following about your ads and users:
Whether they actually saw it. With TV ads, you don't even know that much. They could have been in the kitchen or had the TV on mute.

If they interacted with it

If they liked it

If they lingered on it

If they shared it with a friend

If it prompted another action

If it led to a sale down the road (this is important when deciding how to best spend money)
You also learn much more about the people interacting with that ad:
Who's most interested in your ads

What are they like

What makes them more likely to take an action

Who is easiest to convert

Who spends more

What do they do online

What terms do they use to find you online

Which websites do they visit that lead them to yours
All of this is pretty easy to track with free analytics software like Google Analytics. Or you can gain even more insight with paid tools. Use what you learn to cut costs where you aren't seeing a return on investment. Increase spend and efforts where you get the best results.
9)
Digital Marketing Earns People's Trust
Digital Marketing rides on the current online trend that focuses more on social media signals resulting from direct and more personalized interaction between a brand or business and their targeted audiences. In the
Nielsen Global Online Consumer Survey
that involved 25 thousand consumers coming from at least 50 countries, 90 percent of respondents claimed they would trust information about a particular brand, product or service if the data comes from people they know.
Digital Marketing leverages on social media signals, social proof and testimonials from actual consumers who have previously purchased, joined, or availed of a product or service marketed by a particular brand or business. The more reliable these social signals are, the higher the trust rate it can generate from targeted audiences – most of which can be potential customers.
The number of ways in which individuals can now link with brands, and the technical complexity behind those approaches, has evolved completely new jobs that did not exist a few years back.
The demand for digital marketers has become huge to the point that the failure of several organizations to staff superior Digital Marketing Experts is affecting their business.
The new job opportunities continue to expand now and in the years to come, which states the increasing importance of digital marketing.
11)Government's "Digital India" initiative backs up
In order to transform the entire ecosystem of public services through the use of information technology, the Government of India has launched the
Digital India
programme with the vision to transform India into a digitally empowered society and knowledge economy.
Now, the opportunities are not only available in metro cities but also in small towns. The government has also come up with the application for Employment programs. Everything is going digital these days. Thus, if we talk about,
digital marketing career in India
, then you are at the right place. Stop debating over the choices and get to know what benefits it holds.
The government's e-marketplace is also seeing a considerable rise in its e-marketplace analytical graphs. All the registrations have gone up with minor fluctuations. The fluctuations happen at every place. People in India are getting to technology slowly and it is going to take some time to get acquainted with it.
All of this means that if the government is also giving a helping hand, then why to avoid it! The government is coming up with many projects under the Digital India initiative for the youths of the country.
Indian Prime Minister announced that by 2020 on the digital space there would be more than 20 Lakhs available to students. Moreover, during the launch of
Digital India
week many industries joined hands with the government to make e-India a reality.
It's clear. Businesses in the modern economy need digital marketing to compete. Online is where the customers are. It's where they prefer you to reach them. Online is where the modern buying process begins.
The future of digital marketing seems very bright at the moment.
The scope is wider when it comes to digital marketing.
Digital Marketing will remain as the most powerful way of Marketing in the future.
But as the dynamics of digital marketing are changing every day, a digital marketer has to be agile, alert, smart and adapt to the latest changes. Not only that, the digital marketer of today and tomorrow will have to anticipate changes and implement it way earlier than the change actually happens so take advantage of it.